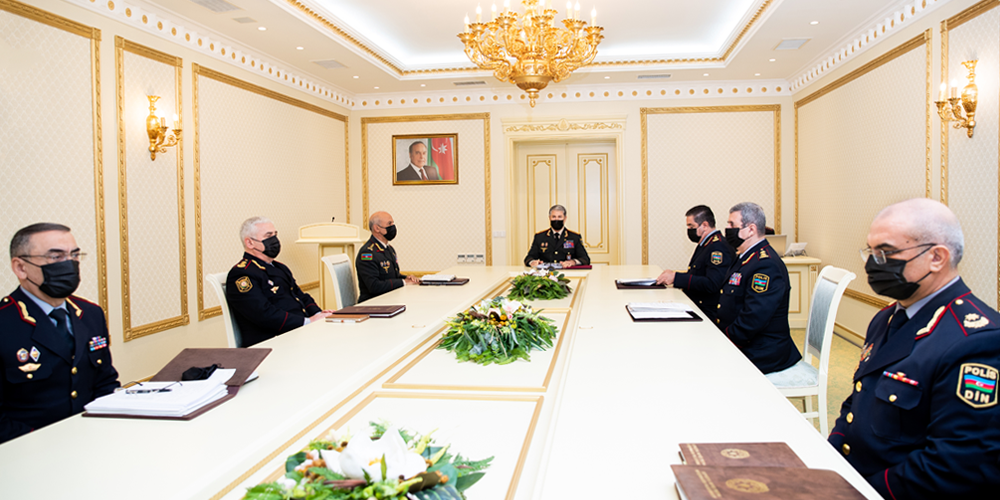 Vital issues of combating crime and protection of public order discussed
03.12.2021
On 3 December, a Board Meeting was held via videoconference in the Ministry of Internal Affairs.
Opening the meeting, Minister of Internal Affairs Colonel General Vilayat Eyvazov emphasized the relevance of the issues brought up for the discussion in terms of their effect on the crime situation, ensuring public satisfaction, and reliable protection of human rights and freedoms.
Chief of the Main Institutional Inspectorate Department, Police Lieutenant General Fazil Guliyev, Chief of the Main Criminal Investigation Department, Police Major General Arzu Dashdamirov, Chief of the Main State Traffic Police Department, Police Major General Ramiz Zeynalov, and Chief of the Main Criminal Investigation Department, Police Colonel Gunduz Sadykhov made reports.
In summary, Ministry of Internal Affairs V. Eyvazov noted that the every of 10 Board meetings held in recent 3 years provided for the improvement of the police activities in protection of human life, health, rights and freedoms, legal interests and property of the state, individuals and legal entities against any wrongful acts; proper and purposeful focus, and most importantly, public satisfaction.
It was emphasized that activities in accordance with the Board resolutions in the field of addressing citizen appeals, solving problems, observance of lawfulness in the process of investigation and inquiry, and payment of material damage caused by crimes and other offences should be carried on persistently. Every person's rights and freedoms guaranteed by law should be reliably protected. All negative cases including unfounded detention, tortures and other cases that cause public discontent should be prevented.
In his speech, the Minister also touched upon the police outdoor services, and in particular, stressed the importance of improving the work of the police Patrol-Guard Service and Traffic Patrol units in accordance with modern requirements, and holding continuous training for the staff to ensure thorough study of the police ethics.
The Minister demanded to give preference to the methods that have proven themselves in the best international practice in protection of public order, ensuring safety of citizens, implementation of road traffic control, and combating illegal drug trafficking, and at the same time gave instructions to the chiefs of the relevant structural units of the Ministry regarding the wide application of technological innovations in police activities.
Recalling once again that ensuring public satisfaction is one of the key tasks set by the President of the country, Minister V.Eyvazov gave specific instructions to develop positive results achieved, prevent carelesness, eliminate shortcomings in various areas of operational and service activities, and handle all issues to be resolved by the end of the year.
3 December 2021