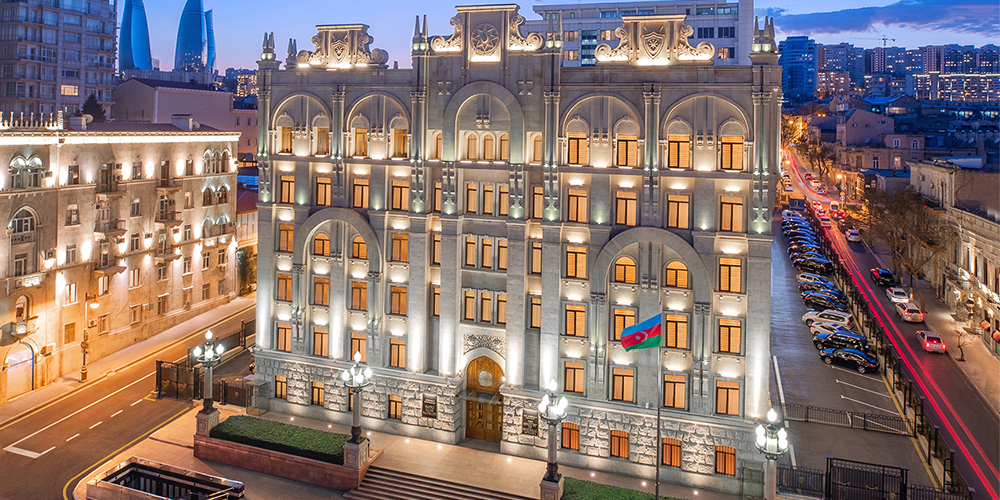 Minister of Internal Affairs received Ambassador of Pakistan
17.02.2021
On February 17, Minister of Internal Affairs Colonel General Vilayat Eyvazov received Ambassador Extraordinary and Plenipotentiary of the Islamic Republic of Pakistan to Azerbaijan Bilal Haye.
Minister of Internal Affairs V.Eyvazov noted that the relations between the two states, which are the strategic partners, have a rich history and President of the Republic of Azerbaijan Ilham Aliyev attached particular importance to the further development of these relations. The Minister also highly appreciated the fact that Pakistan as a friendly and fraternal country always unambiguously supported Azerbaijan on the global stage and in regional organizations.
The Minister noted the development and progress recently observed in all spheres in the result of the political will of the heads of states and expressed his satisfaction with close relations between the Ministries of Internal Affairs of the two friendly states, joint efforts made in combating transnational organized crime, especially in combating illegal drug trafficking, illegal migration and human trafficking based on the signed international legal instruments, as well as with intelligence exchange, and expressed confidence that this meeting would promote further extension of this cooperation.
Bilal Haye thanked the Minister for hearty welcome, emphasized that friendly and fraternal relations between our states and peoples are deep-rooted and expressed his satisfaction with the rapid development of the relations in all spheres over the last years as well as with the environment of security and stability in all regions of our country including its capital which has become one of the most safe states and cities in the world. The Ambassador highly appreciated stability and safe conditions in Azerbaijan he could observe in the short period of his activity and stressed that he would promote further development of the cooperation in all spheres.

The parties also discussed other matters of mutual interest in a sincere and friendly atmosphere of the meeting.