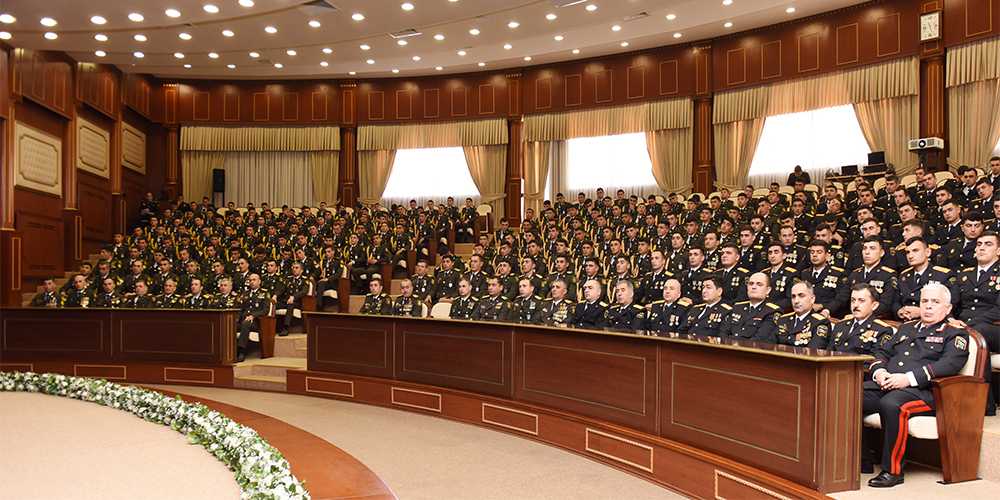 The Event dedicated to the Victory Day was held at the Ministry of Internal Affairs
07.11.2023
A solemn ceremony dedicated to the third anniversary of Victory Day was held at the Ministry of Internal Affairs. Military personnel of the Ministry of Internal Affairs, police officers, veterans, also employees of the Ministry, who participated in the 44-day Patriotic War, took part in the event. At the beginning of the event, the dear memory of our martyrs who died for the sovereignty and territorial integrity of our republic was commemorated with a minute of silence.
Speaking after the National Anthem, Deputy Minister of Internal Affairs, Police Lieutenant General Ismat Aliyev emphasized that our armed forces, including the military personnel of the Ministry of Internal Affairs, united like an iron fist under the unified command of the Supreme Commander-in-Chief Ilham Aliyev, have fought an honorable battle in the Patriotic War. Noting that our military personnel took part in the battles from Murovdag to Shusha, the speaker noted that during the liberation of the lands, 66 personnel were martyred, 346 people were wounded, 4 military personnel were awarded the title of "Hero of the Patriotic War", and thousands of our military personnel were awarded orders and medals.
The Deputy Minister emphasized that many parameters of the Patriotic War conducted by Azerbaijan - high tempo, application of modern equipment on the battlefield, skillful management of operations, militancy of officers and soldiers - were written in the world military history as the war of the 21st century. I.Aliyev noted that during the local anti-terrorist operations, which took place on September 19 of this year, as well as during the Patriotic War, the military personnel of the Ministry of Internal Affairs, as well as the police officers, showed examples of high professionalism and heroism. He said that the personal staff is ready to fulfill every order of the Supreme Commander.
Colonel Shahin Baylarov, who was awarded with the "Participant of the Patriotic War" medal, police colonel Tural Novruzov, who was awarded with the "Freedom of Shusha", "Freedom of Fuzuli", "For Military Services" medals, and "For Bravery", Sergeant Major Surat Babayev, who was awarded with medals "For courage", "For bravery" said that our military personnel, who are surrounded by the special care of the head of country, will always try to justify this trust shown to them by increasing their knowledge, skills, and professionalism.
At the end of the event, the documentary film "Victory Square" dedicated to the victory in the Patriotic War was presented.
Youtube linki - https://www.youtube.com/watch?v=zvpSiKJ_rgA