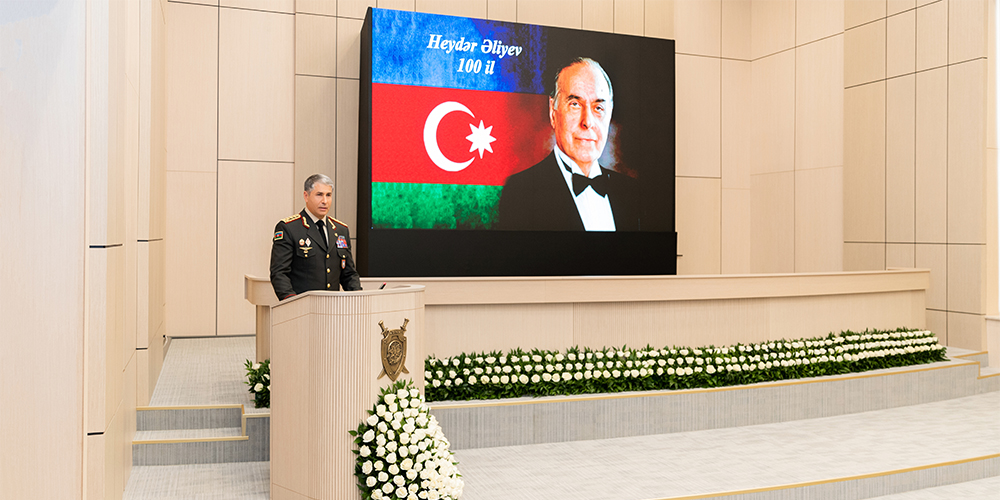 Events dedicated to the "Year of Heydar Aliyev" continue in the Ministry of Internal Affairs
06.05.2023
On the occasion of the 100th anniversary of the birth of the architect and founder of the Azerbaijan state, the world-famous politician Heydar Aliyev, on May 6, the leadership staff, employees and military personnel of the Ministry of Internal Affairs came to the Alley of Honor and arranged flowers in front of the monument of the Great Leader. The memory of prominent ophthalmologist scientist, academician Ms. Zarifa Aliyeva was also honored.
Then an event dedicated to the national leader's anniversary was held at the Ministry. The Minister of Internal Affairs, Colonel-General Vilayat Eyvazov, opened the event with an introductory speech and spoke in detail about the outstanding services of the Great Leader Heydar Aliyev in the establishment of the new Azerbaijan, in strengthening its independence, economic and political foundations, in making our country a full and equal member of the international community, in raising its democratic image, and in general in the history of statehood noted, emphasized his role in the formation and development of internal affairs bodies, attention and care to the personnel. In front of the participants of the event, the department head of the Institute of History of the Azerbaijan National Academy of Sciences, doctor of science in history, Professor Adalat Gasimov made a comprehensive speech on the topic "Heydar Aliyev phenomenon in the historical destiny of the Azerbaijani people".
The documentary "Heydar Aliyev and the 44-day Victory Road", which tells about the rich life path and activities of the national leader, was shown at the event. Within the framework of the "Year of Heydar Aliyev" declared by the Decree of the President of the Republic of Azerbaijan, a series of events were held at the Police Academy of the Ministry, the Higher Military School, the Special Police Regiment, Baku City Chief Police Department, local police bodies and military units, as well as conferences, intellectual competitions, sports tournaments, contests, tree planting actions and others were organized.