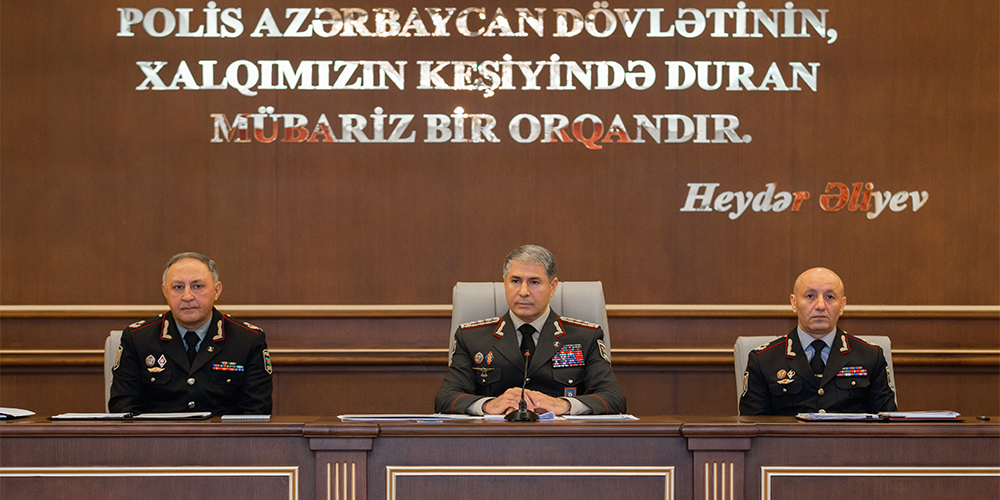 Operational meeting was held
18.01.2023
On January 18, a wide-scale operational meeting dedicated to the finals of 2022 was held at the Baku City Head Police Department with the participation of the Minister of Internal Affairs of the Republic of Azerbaijan, colonel-general Vilayat Eyvazov.
The minister V. Eyvazov generally positively evaluated the service activities of the police authorities of the capital in the field of combating crime and provision of public safety in 2022. The management of the Baku city Head Police Department, as well as its related structural institutions and district police division were required to direct the main focus in service activities in 2023 to strengthening discipline among personnel, resolutely preventing crime and other illegal acts, ensuring the protection of human and civil rights and freedoms, and most importantly, ensuring a high level of citizen satisfaction.
Then, the head of the Baku City Head Police Department, the police major-general Akbar Ismayilov made a report on the finals of the reporting period and the upcoming tasks.
The chiefs of the district police departments of the capital, who delivered speeches on the report, reported on the works done, the results obtained, and at the same time, on the measures planned to eliminate the shortcomings and deficiencies in the service activity.
Concluding the operational meeting, the minister touched on the importance of preventing traffic congestions and traffic jams in the capital together with the relevant authorities, removing cars that are illegally parked on the side of the roads and obstructing the normal flow of traffic, as well as eliminating shortcomings in the field of passenger transportation, in order for citizens to reach their homes comfortably and safely.
Paying attention to the combating illegal drug trafficking, which has become a universal problem, the Minister V. Eyvazov spoke about the importance of further strengthening anti-narcotics propaganda, holding regular meetings with young people in educational institutions for this purpose, and thanked them, noting that citizens also support the police in the combating drugs.
Emphasizing with satisfaction that the necessary conditions have been created for the high-level performance of the duties defined by the law, and that the authorities and units of internal affairs are comprehensively covered by the state care, the colonel-general V. Eyvazov expressed his confidence that in response to this high attention and trust, the personnel of the Baku City Police Garrison will fulfill its service duty properly from now on.