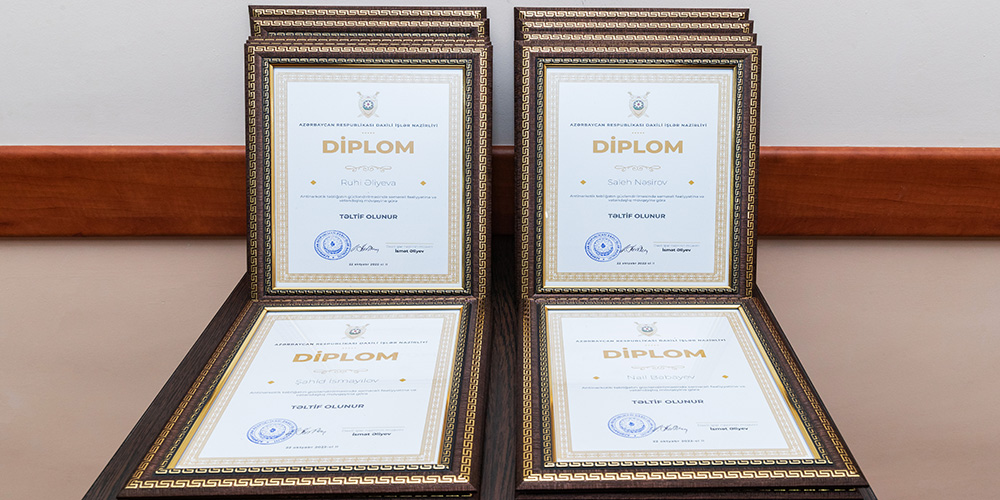 The MIA awarded bloggers
14.11.2022
The competition announced by the Ministry of Internal Affairs to strengthen anti-narcotic propaganda among the population has ended. The materials submitted by 21 bloggers were reviewed by the jury, and 7 materials were selected and their authors became the winners of the competition.
On November 14, an awarding event for the competition winners was held at the General Anti-Narcotics Department of the Ministry of Internal Affairs.
In his speech, the Head of the Head Office , Police Major General Islam Humbatov gave brief information about the determined struggle of the internal affairs bodies to prevent the illegal circulation of drugs, as well as the educational measures carried out in this direction. He expressed his gratitude to the participants of the competition for their support in anti-narcotics propaganda among the population, noting that the joint efforts of the society are required to eliminate illegal drug trafficking and drug addiction, which is a global problem that worries all mankind, and the importance of everyone's real contribution to the common cause.
Then prizes were presented to the winning participants.
The participants, in their turn, pointed out that the involvement of bloggers in educational work in this direction is an important initiative, thanked the leadership of the country and the Ministry of Internal Affairs, and said that they will do their best to form a healthy youth in their activities.