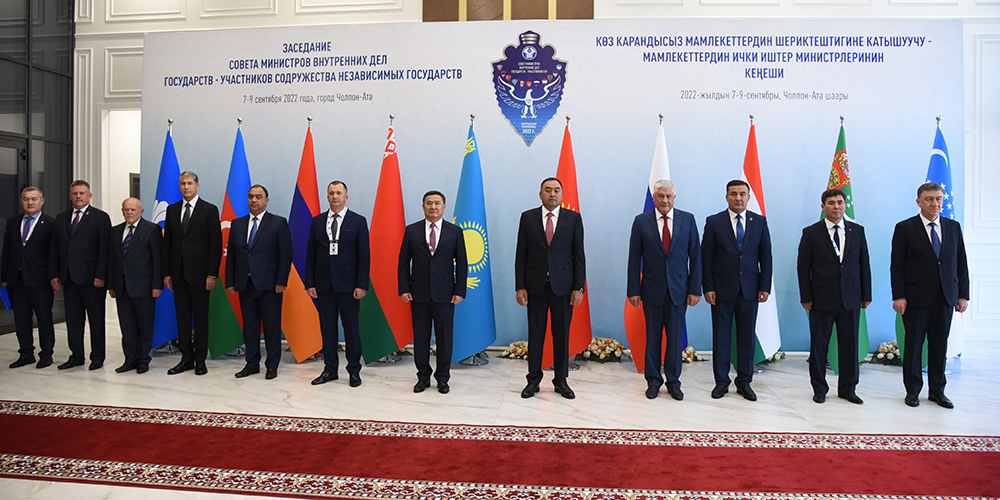 The meeting of the Council of the Ministers of Internal Affairs of the CIS was held 
09.09.2022
The Minister of Internal Affairs of the Republic of Azerbaijan, Colonel-General Vilayat Eyvazov, was on a two-day official visit to the Kyrgyz Republic to attend the next meeting of the Council of Ministers of the İnternal Affairs of the Commonwealth of Independent States.
At the meeting of the Council of Ministers of Internal Affairs held on September 8 in Cholpan-Ata, general views were exchanged on the priority areas of cooperation of the Ministries of Internal Affairs of the member states and the state of implementation of interstate programs in combating crime, it was emphasized that the Council is conducting extensive and comprehensive work in combating terrorism, extremism, drug trafficking, organized crime and trafficking in human beings, and the organization is also effective in exchanging experience and information in the CIS region.
The minister of Internal Affairs of the Republic of Azerbaijan Colonel-General Vilayat Eyvazov delivering a speech at the meeting noted the relevance of all the issues on the agenda, their relevance to the tasks facing the authorities of internal affairs, which are compatible with today's realities, and expressed confidence that the discussions will give a new impetus to the further intensification and expansion of cooperation.
V.Eyvazov noted that during the period of 2019-2022, hundreds of serious crimes were opened in close cooperation by the relevant institutions of the MIA of the member countries of the Union, numerous organized transnational criminal groups were neutralized, and dangerous criminals were arrested and extradited.
Noting that the partnership within the union is at a fairly high level, the minister said that over the past 5 years, 4,470 criminal groups have been neutralized, and the confiscation of nearly 4,000 firearms and 9 tons of drugs from illegal circulation is a clear proof of the uncompromising position of the Azerbaijani law enforcement agencies in this direction.
General-Colonel V.Eyvazov spoke about the positive results of the resolute fight against crime in our country in recent years, the decreasing trend of the detection of crimes in general, including serious and especially serious crimes, the arrest of accused persons who are wanted between the states, the favorable criminogenic situation, the measures implemented in the field of public order protection and drew attention to the need to respond to the new threats and challenges of transnational organized crime with joint efforts.
At the meeting held in friendly and constructive cooperation, relevant decisions were made on all planned issues.