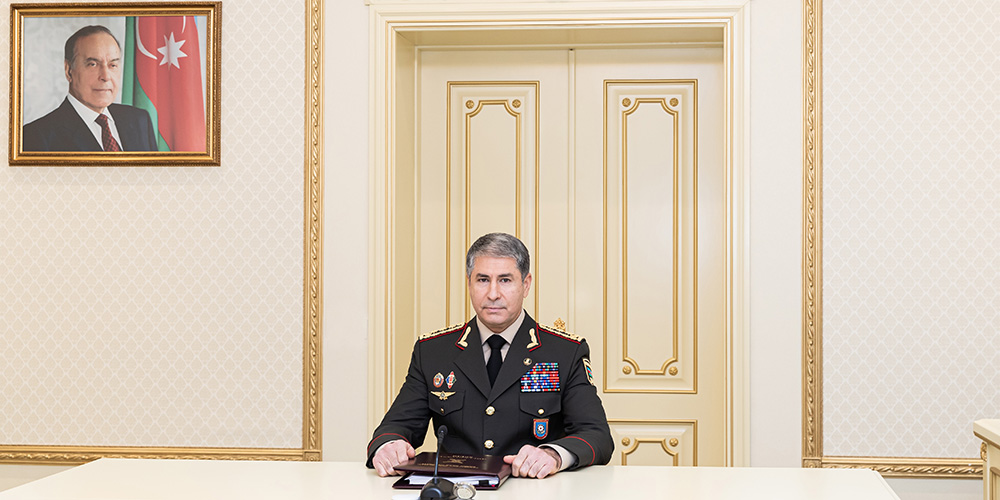 Previous year results summarized in MIA
18.01.2022
January18 - The Board meeting devoted to the results of activities in crime prevention, public order and public security maintenance in 2021 and forthcoming tasks was held in the Ministry of Internal Affairs.

Opening the meeting held via videoconference with the introductory speech, Minister of Internal Affairs of the Republic of Azerbaijan Colonel General Vilayat Eyvazov noted that in the result of the law-enforcement policy successfully carried out by President of the Republic of Azerbaijan, Supreme Commander-in-Chief of the Armed Forces Ilham Aliyev, public order and stability built upon the strong foundation were reliably protected in our country in 2021. Considerable work was done by the internal affairs agencies to further improve positive results achieved in previous years. At the same time, the Minister highlighted that the internal affairs agencies and Internal Troops worthily discharged their service duties in crime prevention, public order maintenance, protection of human rights and freedoms, and implementation of the special quarantine regime control, and ensured security at international and national public events as well as in the territories liberated from occupation.

Further, Minister of Internal Affairs V.Eyvazov delivered his report and noted that 31,131 crimes were registered in 2021 through all government agencies which carry out operational and investigative activities, and 94.2 per cent of them were the crimes investigated under the procedural order by the internal affairs and prosecution agencies. 84 per cent of them were the crimes not posing great threat to public safety and minor offences.

In the result of operational and investigative measures the detection of 88.9 per cent of crimes was provided. The rate of detection of other offences was also high: 82.9 per cent of grave and especially grave crimes; 83.4 per cent of crimes committed under unclear circumstances; 97.9 per cent of crimes against personality; 79.9 per cent of crimes against property were detected. The number of crimes detected with the participation of citizens in the reporting period increased by 39 per cent and was 7837.

332 crimes unsolved in previous years were solved jointly with prosecution agencies and offenders were identified and brought to trial.

It was also mentioned that compared with the same period the number of crimes against personality in 2021 decreased by 4.3, including intentional homicides (decreased by 13 per cent), attempted homicides (decreased by 16.7 per cent); intended minor bodily harm (decreased by 2.7 per cent); gun crimes (decreased by 21.4 per cent); crimes committed by minors (decreased by 31 per cent); thefts (decreased by 3.3 per cent) including home burglaries (by 14 per cent) and robberies (by 26 per cent).
268 criminal groups were neutralized in the result of operational activities and 188 persons who illegally held and carried firearms were brought to criminal responsibility.

Minister V.Eyvazov noted that 3 ton 45 kg of narcotic substances were withdrawn from illegal circulation (that is 1.1 ton more than in 2020) and over 174 tons of narcotic plants were detected and destroyed, and positively assessed the work done in this sphere in recent years. The Minister emphasized the importance of everyone's real contribution to the common cause in combating this trouble, and mentioned numerous operations successfully carried out based on information provided by citizens in combating illegal drug trafficking. Vilayat Eyvazov also expressed his gratitude to everyone who took an active civic stance in detection this type of crimes.

Touching upon the importance of more targeted anti-drug propaganda among teenagers and youth, the Minister noted that it is necessary to maintain a focus on this sphere to reduce the demand for drugs in the country. He noted that the Ministry of Internal Affairs relies upon the mature layers of the society and every reasonable citizen in this matter and expects more activity from the media, active users of social networks, including bloggers.

Colonel General Vilayat Eyvazov also called attention to discharging such important duties as ensuring citizen satisfaction, unbiased and responsive review of all appeals and applications, protection of legitimacy, compliance of ethical conduct standards by the personnel and noted that major efforts are made in this direction and positive results are achieved. The Minister also noted that most issues raised during reception and review of thousands of appeals were properly solved, flexible response was given to each appeal received through the 102 Service, hotline, and social media, about 90 per cent of material damage caused in the result of crimes was indemnified, and electronic services provided to the population were improved in accordance with up-to-date requirements.

Chief of the Main Police Department of Baku city, Police Major General Akbar Ismayilov; Chief of the Main Guarding Department, Police Major General Nurullah Mammadkhanli; Chief of the Main Public Security Department, Police Major General Ogtay Karimov; Chief of the Main Police Department of Ganja city Police Major General Teymur Hajiyev, Chief of the Main Police Department of Sumgayit city, Police Colonel Fagan Azadaliyev, and chiefs of territorial police departments delivered their reports at the meeting.

Summarizing the meeting, the Minister of Internal Affairs noted that along with positive results achieved in operational and investigative activities in 2021 there were certain shortcomings which had a negative impact on the overall work, and drawn attention to the necessity of a comprehensive analysis of such cases and identification of ways of their elimination as well as set specific targets and gave recommendations related to forthcoming tasks.

Colonel General Vilayat Eyvazov expressed deep gratitude on behalf of the personnel to President of the Republic of Azerbaijan Ilham Aliyev for the high-level attention paid to the internal affairs agencies, to the improvement of their logistics, strengthening of the personnel's social protection, and upgrading the infrastructure, as well as for appreciation of their activities and trust. The Minister assured that the internal affairs agencies would continue to perform adequately their duties in public order maintenance, internal security, ensuring the supremacy of law, and law and order protection in the republic.