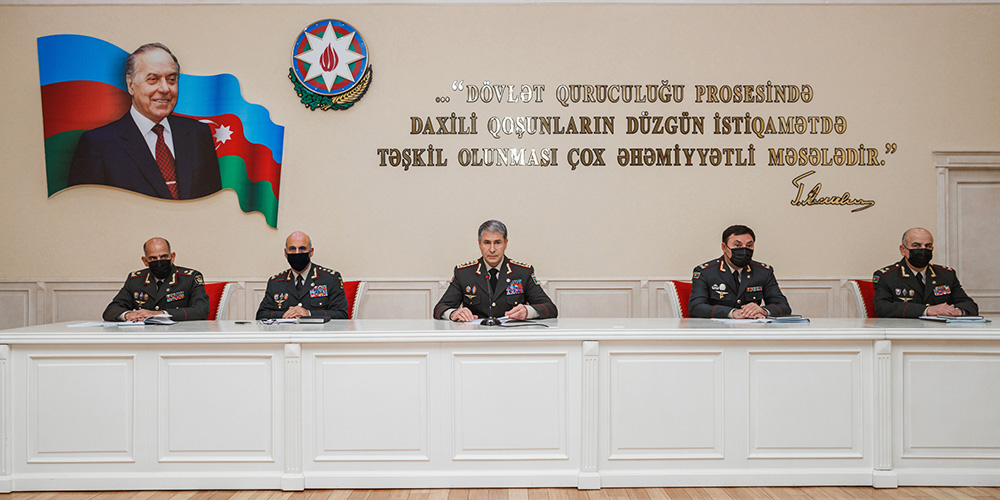 Minister Vilayat Eyvazov held a meeting at Main Department of Internal Troops
15.01.2022
A brief meeting devoted to results of service and combat activities in 2021 was held under the guidance of Minister of Internal Affairs Colonel General Vilayat Eyvazov in the Main Department of Internal Troops.

In his opening speech Colonel General Vilayat Eyvazov noted that in the result of the development and progress strategy that has been successfully implemented by President of the Republic of Azerbaijan, Supreme Commander-in-Chief Ilham Aliyev, the economic power of our country, its defense potential and international profile have strengthened considerably. The Minister also emphasized that particular attention is continuously paid by the Head of State to building the army including the enhancement of the Internal Troops activities and further improvement of logistics, working and living conditions of servicemen.

Noting with appreciation that mister President has always had high regard for the role and merits of MIA and its organizational unit – the Internal Troops – in maintenance of public order, effective crime prevention, protection of statehood against criminal infringement as well as in the enforcement of human and civil rights and freedoms, the Minister also stated that such attention and care at the highest level call for more responsible approach to discharge of professional duties on the part of servicemen.

Then Deputy Minister of Internal Affairs, Commander of Internal Troops Lieutenant General Shahin Mammadov made a report on the results of the service and combat activities.
Summing up the meeting, Minister Vilayat Eyvazov highly appreciated the activities of the Internal Troops in the last reporting year, mentioned the forthcoming challenges and ways to address them, and gave specific instructions and recommendations. At the same time, the Minister expressed his confidence that in response to the special attention and care of the Supreme Commander-in-Chief the personnel would show exemplary services in reliable protection of stability and peace and fighting against crime, including services in the territories liberated from occupation, and would adequately carry out all the tasks set.