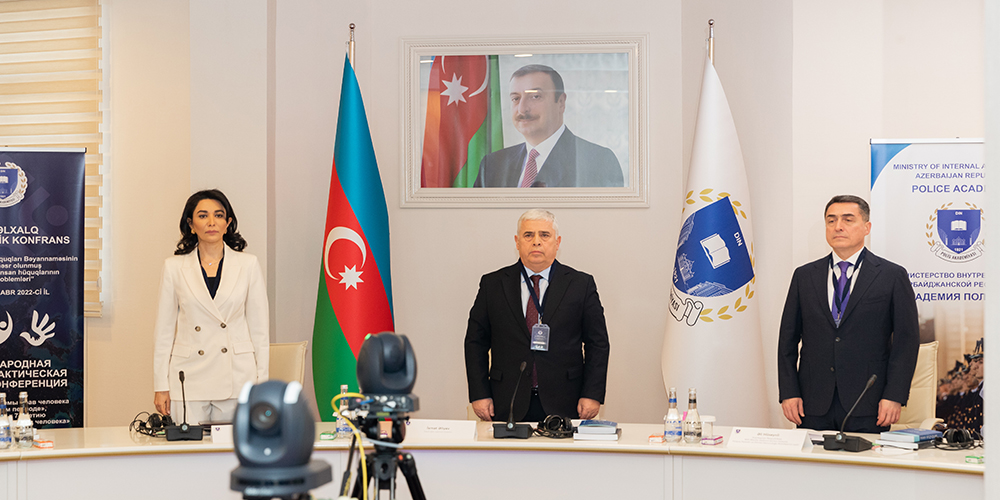 An international conference dedicated to the 74th anniversary of the UN Universal Declaration of Human Rights was held at the Police Academy of the Ministry of Internal Affairs
28.12.2022
An international scientific-practical conference dedicated to the 74th anniversary of the Universal Declaration of Human Rights was held at the Police Academy of the Ministry of Internal Affairs in order to develop mutual relations. The participants of the event firstly laid bunches of flowers in front of the monument of the Great Leader at the Police Academy. Then, the cherished memory of National leader Heydar Aliyev and our martyrs who died for the territorial integrity of Azerbaijan was commemorated with a minute of silence, and the National Anthem was played. The event was attended by the representatives of the UN High Commissioner for Human Rights, the International Committee of the Red Cross, the Milli Majlis of the Republic of Azerbaijan, the Ombudsman Office, the Constitutional Court, as well as a number of state institutions and higher educational institutions of our republic. 35 employees from 20 institutions of the country participated in the conference directly, 18 associates from 14 educational institutions of the Republic of Turkey, Russian Federation, Belarus and Kazakhstan participated in the online format.

The deputy minister of internal affairs, the police lieutenant general Ismat Aliyev, who opened the conference with an introductory speech, noted that the superiority of human rights and freedoms is of great importance in the activities of the authorities of internal affairs.

Ali Huseynli, the first deputy chairman of the Milli Majlis, Sabina Aliyeva the Human Rights Commissioner, the representatives of the State Customs Committee, State Security Service Academy, the Ministry of Justice, the Union of Associations of Court Judges, as well as the representatives of Turkey, the Russian Federation and the Republic of Belarus delivered a speech at the event.

Then, the presentations of local and foreign participants were heard about the topic and it was emphasized that the provision of human rights and freedoms is one of the main goals of democratic countries. At the end of the event, the declaration was read, conference materials and certificates were presented to the participants.
Youtube link: https://www.youtube.com/watch?v=RX2cPAY2d1c