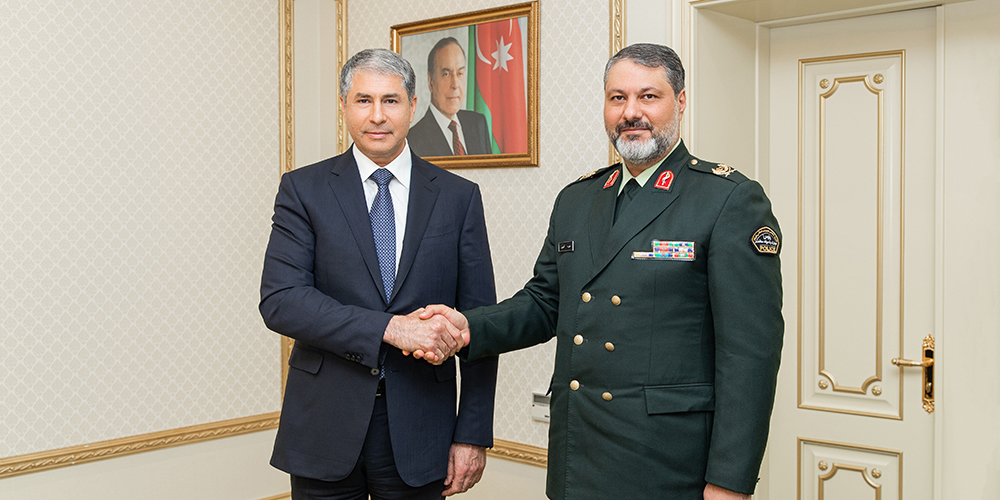 The Minister Vilayat Eyvazov has received the chief of the Anti-Drug Police of Iran
20.06.2022
The Minister of Internal Affairs of the Republic of Azerbaijan, colonel-general Vilayat Eyvazov has received a delegation led by the brigadier general Majid Karimi, the chief of the Anti-Drug Police of the Command of the Law Enforcement Forces of the Islamic Republic of Iran who was on a visit to our country on June 20.
The minister V. Eyvazov greeting the visitors emphasized the existence of historical, cultural and religious closeness between our peoples and noted that Azerbaijani-Iranian relations are developing dynamically and productively, and this cooperation is of a strategic nature. Then, touching on the relations between the Ministries of Internal Affairs of the two countries, the minister said that there is a normative-legal framework that regulates mutual activity, and this allows closer cooperation and implementation of joint practical measures in the fight against crime. He said that such meetings create great opportunities for combining our efforts in the fight against transnational organized crime, including illegal drug trafficking, which has become a human disaster, that cooperation has great potential in the fight against dangerous types of transnational organized crime that have become global in nature, especially illegal drug trafficking and illegal migration, he emphasized the need to define new directions, and that the institution he leads is also interested in expanding bilateral relations.
The minister provided brief information to the visitors about the current criminogenic situation in Azerbaijan, noted the work done in the field of strengthening democratic principles, improving the mechanism of legal regulation of public relations in our republic and said that law enforcement authorities are taking complex measures in combating organized crime, international terrorism, extremism, separatism, weapons and illegal drug trafficking within the framework of close, mutual collaboration.
The brigadier general Majid Karimi, the head of the Anti-Drug Police of the Law Enforcement Forces Command of the Islamic Republic of Iran, expressed his gratitude for the cordial reception and noted that indeed such visits and the fulfillment of the provisions of the signed agreements are in the interests of both friendly countries with the same religion, similar culture and historical roots and helps to further develop relations in all areas, including security, economic relations and other issues.
A number of other issues of interest to the parties were also discussed at the meeting held in a friendly and cordial atmosphere.