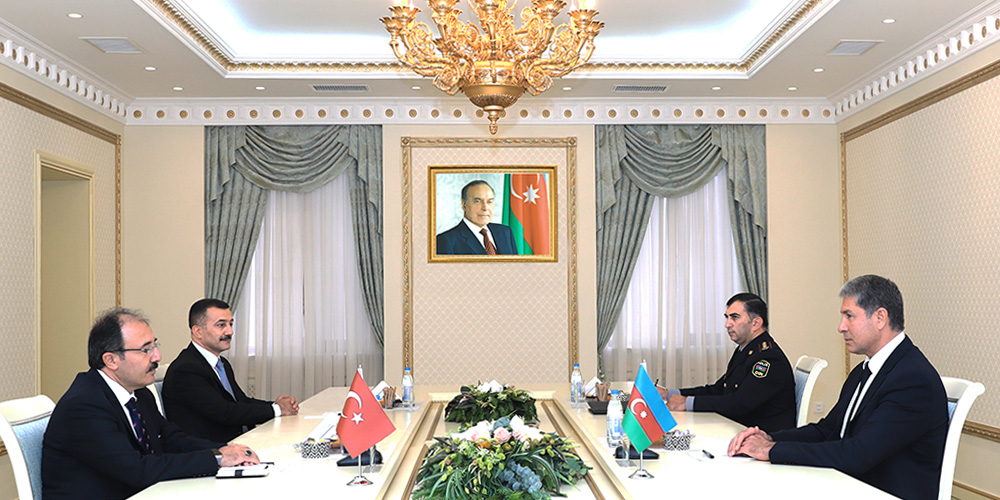 Minister of Internal Affairs Meets with New Ambassador
09.09.2021
On 9 September, Minister of Internal Affairs of the Republic of Azerbaijan Colonel-General Vilayat Eyvazov received the newly appointed Ambassador Extraordinary and Plenipotentiary of the Republic of Turkey in our country Jahit Bagchi.
Welcoming the guest, the Minister congratulated the Ambassador on his appointment and wished him success in his valuable activities.
Minister of Internal Affairs emphasized that the relations between Azerbaijan and Turkey are strengthening by the day and noted that the heads of the two states attached great importance to the development of cooperation in all spheres at the highest level. Mr.Eyvazov also shared information on the noteworthy results achieved by the Ministries of Interior of the two states in the field of crime prevention, professional development, exchange of information, and experience over the last few years.
Colonel-General Vilayat Eyvazov noted with appreciation that today the Azerbaijani police and Internal Troops carry out their activities at the high professional level and are the leading law-enforcement authority in public order enforcement and crime prevention, emphasized the particular role of the Police and Gendarmerie Forces of Turkey in these achievements and expressed gratitude to all members of the Ministry of Internal Affairs and General Directorate of Security including the Gendarmerie Forces of Turkey.
Ambassador Jahit Bagchi thanked the Minister for warm hospitality and congratulations and expressed satisfaction with the rapid development of our republic in all spheres. The Ambassador also noted that he would make every effort to further strengthen the high-level relations between our states and peoples in the period of his diplomatic activities.
A set of other issues were also discussed at the meeting held in the atmosphere of friendship and understanding.