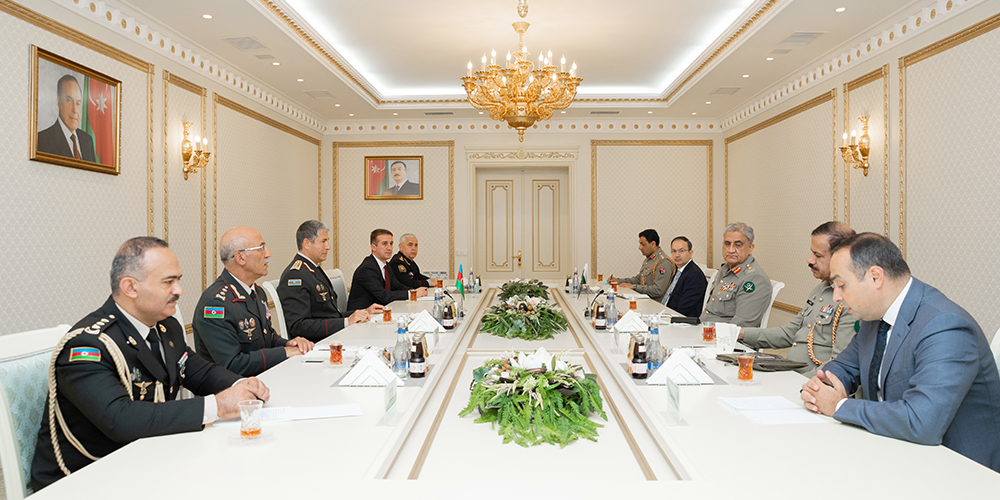 Minister V.Eyvazov: "There is an effective cooperation between the Ministries of Internal Affairs of the two states"
22.06.2021
On June 22, Minister of Internal Affairs of the Republic of Azerbaijan Colonel General Vilayat Eyvazov received the delegation headed by the Chief of the Army Staff of the Pakistan Armed Forces, Army General Qamar Javed Bajwa ho was on an official visit to our country.
Greeting the guest, the Minister noted with satisfaction that the relations between the two states which are strategic allies have a rich history and deep roots, and Great Leader Heydar Aliyev and President of the Republic of Azerbaijan Ilham Aliyev have always attached special importance to building these relations on a solid foundation.
Colonel General Vilayat Eyvazov briefed the guest on the current crime situation in Azerbaijan, the reforms carried out, and results achieved in the field of combating crime and protection of public order.
The Minister emphasized the existence of bilateral relations based on fruitful cooperation between the Ministries of Internal Affairs of the two countries and mentioned the joint efforts made and exchange of operational data carried out in combating transnational organized crime and illegal drug trafficking in accordance with the signed international legal instruments and in particular in combating trafficking in human beings. Mr. Eyvazov also stressed that the cooperation between the law enforcement agencies within INTERPOL as well as the relations built in the military logistics sector between the Internal Troops of MIA and the Pakistan Organization for Global Industrial Defence Solutions are successfully maintained.
Army General Qamar Javed Bajwa expressed his gratitude for the hearty welcome and detailed information, pointed out that friendly and brotherly relations between our states and peoples have deep roots, and expressed his satisfaction with the rapid development of relations in all areas as well as with stability and peace established in our country, especially in recent years.
The parties also discussed a number of other matters of mutual interest in a sincere and friendly atmosphere of the meeting.