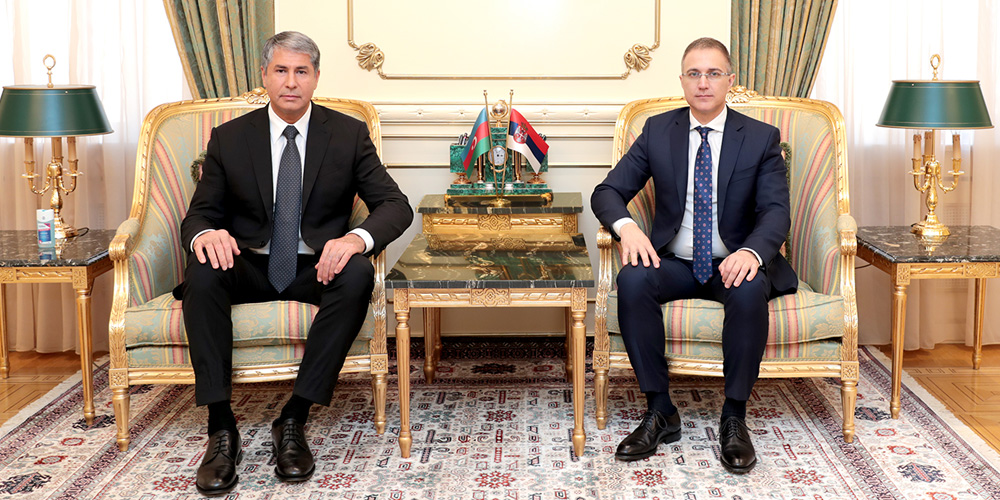 Minister Vilayat Eyvazov met his Serbian colleague
11.08.2020
On August 11, the Minister of Internal Affairs of the Republic of Azerbaijan Colonel-General Vilayat Eyvazov met with the Deputy Prime Minister of the Republic of Serbia, Secretary of the National Security Council and Minister of Interior Nebojša Stefanović, who was on an official visit to our country.
Welcoming the guest, the Minister noted with satisfaction that Azerbaijan and Serbia are strategic partners and emphasized the important role of mutual visits of the leaders of the two countries, negotiations and signed documents in achieving the high level of relations between our countries.
Minister V.Eyvazov stressed the importance of the "Agreement on cooperation in combating crime between the Government of the Republic of Azerbaijan and the Government of the Republic of Serbia" signed in Baku on May 13, 2010 and the Memorandum of Understanding between educational institutions of our countries for training police officers in the establishment of relations between the Ministries of Interior of the two states.
The Minister briefly informed the guest about the reforms carried out in the Internal Affairs bodies and noted that new laws had been adopted to regulate police activities based on democratic principles. It was stressed that the implementation of these laws is of particular importance.
The Minister of Internal Affairs stated that one of the important changes in that direction was the improvement of activities in accordance with the world best practices and noted that about 8 thousand employees and servicemen took part in numerous training and exercises over the past 10 years through a number of international organizations which had a positive impact on further professional improvement and rise of the level of expertise of the personnel.
It was noted that state-of-the-art information technologies are widely used for the purposes of carrying out operational activities to provide fast response to wrongful acts suffered by citizens.
Touching upon the existing problems, the Minister of Internal Affairs stressed that the efforts to counter drug trafficking, international terrorism, human trafficking, illegal migration and cybercrime, which are the main types of transnational organized crime, are in the center of attention, and it is only in joining efforts we can effectively fight them.
Nebojša Stefanović thanked the Minister for warm hospitality, noted that the relations between the two countries have expanded and deepened in all areas in recent years, and stressed that our countries, which are suffering from similar conflicts, have the same position on a number of issues at the international level. Mr. Stefanović also expressed interest in further developing cooperation with the Ministry of internal Affairs of Azerbaijan which they consider a close friend.

A number of other issues of mutual interest were also discussed at the meeting.