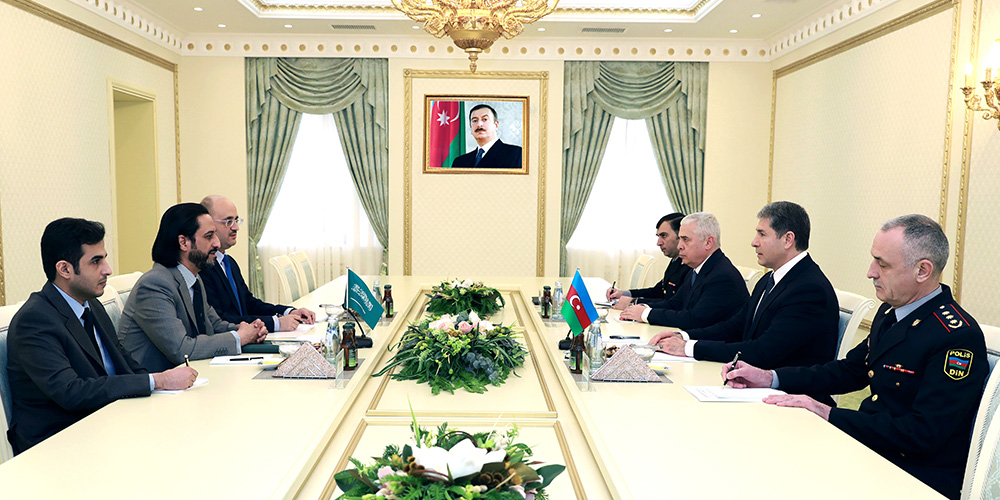 Press Release by the Press Service of the Ministry of Internal Affairs
05.02.2020
On February 5, Minister of Internal Affairs, Colonel-General Vilayat Eyvazov received Ambassador Extraordinary and Plenipotentiary of the Kingdom of Saudi Arabia to our country Hamad Abdulla Khudeyr.
Welcoming the guest, the Minister noted with appreciation that the Kingdom of Saudi Arabia has always supported Azerbaijan in international organizations and mentioned that personal friendly relations, mutual visits and documents signed at the highest level between the heads of our states give an impetus to further deepening of the cooperation, and these relations have been dynamically developing, especially in recent years.
Then, the guest was briefed on the current criminal situation and reforms carried out in the internal affairs bodies as well as on the efforts made to maintain stability and peace.
Touching upon the relations between the internal affairs agencies of the Republic of Azerbaijan and the Kingdom of Saudi Arabia, Minister Vilayat Eyvazov noted that this cooperation is maintained under the Protocol of cooperation in combating crime between the Republic of Azerbaijan and the Kingdom of Saudi Arabia signed on February 19, 2018 and within the International Criminal Police Organization (INTERPOL).
Mr. Hamad Abdulla Khudeyr thanked the Minister for hearty welcome and detailed information and expressed his satisfaction with the environment of security and stability in all regions of our country including its capital which he is witnessing during his diplomatic activity.
The Ambassador noted that Azerbaijan has become an attractive state for foreigners owing to security and stability factors and creation of new infrastructure and service areas that meet up-to-date standards, and stressed that the number of tourists arriving to our country from the Kingdom of Saudi Arabia was growing from year to year. The guest also drew attention to the role of the country leadership and law-enforcement bodies including the internal affairs agencies and told that he would continue to make every effort for the further development of our relations during the period of his diplomatic activity.
The parties also exchange their views on the present state of relations in the sphere of security and priority areas and discussed a number of other matters of mutual interest in a sincere and business-like atmosphere of the meeting.