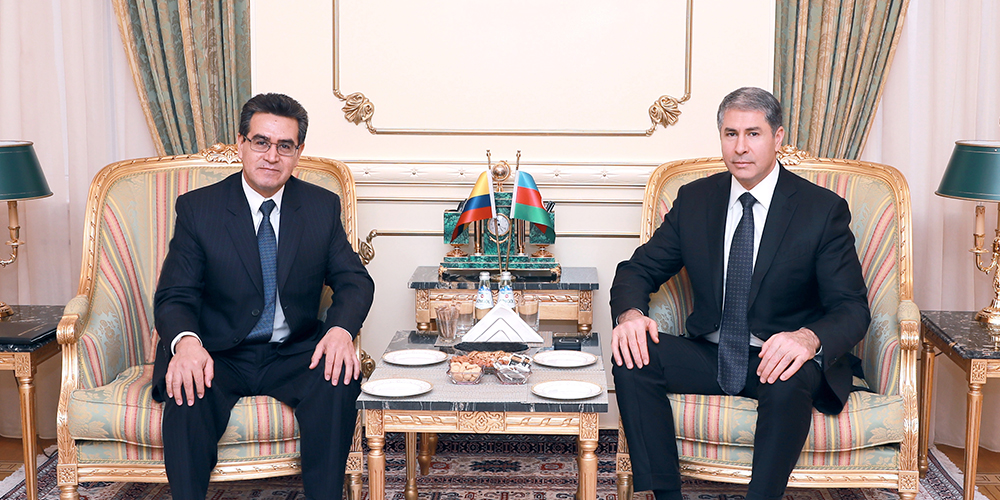 Press Release by the Press Service of the Ministry of Internal Affairs
05.12.2019

On December 5, Minister of Internal Affairs, Colonel-General Vilayat Eyvazov received Ambassador Extraordinary and Plenipotentiary of the Republic of Columbia to our country Luis Antonio Dimate Kardenas.
Having welcomed the guest, the Minister congratulated him on the appointment to the new post and wished success in his diplomatic work.
The Minister expressed satisfaction with the cooperation between the two countries in political, cultural and humanitarian spheres, and noted that mutual visits gave impetus to the expansion and development of these relations. He also brought attention to the fact that the Colombian government always supported Azerbaijan's position on the international stage.

Speaking about the relations between the Ministry of Internal Affairs and the National Police of Colombia, Colonel-General V.Eyvazov recalled that the delegation consisting of public security guards of this country was in Azerbaijan four years ago, and within the framework of the visit a meeting was held with the delegation at the MIA during which they were closely acquainted with the activities of the "102" Call Center System, the "Safe City" automated control center, as well as the separate Riot Police Regiment.

Touching upon the problems, the Minister noted that the fight against main types of transnational organized crime, especially against illicit drug trafficking, is in the focus of attention and stressed out the need to combine efforts to effectively combat such crimes posing global threat.

Ambassador Luis Antonio Dimate Kardenas thanked the Minister for hearty welcome and detailed information, expressed his satisfaction with the environment of security and stability in our country including its capital, and told that he would spare no efforts for the further development of bilateral relations in his diplomatic activities.