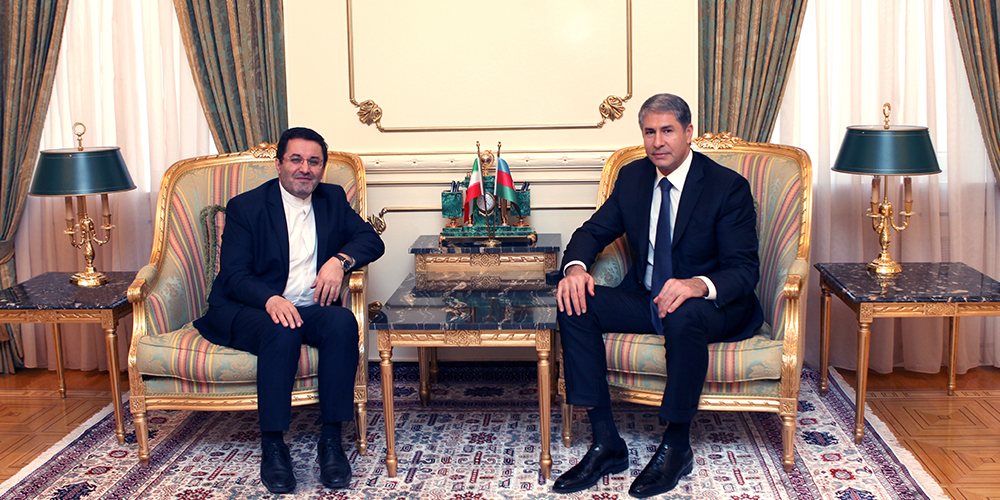 Press Release by the Press Service of the Ministry of Internal Affairs
07.11.2019
On November 7, Minister of Internal Affairs, Colonel-General Vilayat Eyvazov received Ambassador Extraordinary and Plenipotentiary of the Islamic Republic of Iran to our country Javad Jahangirzadeh.
Having welcomed the guest, Minister V.Eyvazov noted with appreciation the ancient historical roots of friendship between our peoples, scientific, spiritual and cultural ties which bind the two nations living side by side for centuries, successful development of the bilateral relations, sincere friendship between the Presidents of Azerbaijan and Iran and their mutual visits which made a great contribution to the comprehensive cooperation.
Touching upon the relations between the Ministries of Internal Affairs of the two countries, Colonel-General Vilayat Eyvazov stated that visits at the level of delegations headed by Ministers as well as other senior officials, mutual support within the framework of international organizations showed close ties not only between the two ministries but also between other law enforcement bodies.
Mr. Eyvazov, referring to the issue of combating global dangerous forms of transnational organized crime, especially the fight against drug trafficking and smuggling, emphasized great opportunities of cooperation and the necessity of exchange of relevant information and experience, identification of new directions and joint efforts in this sphere.
It was stated at the meeting that our ministries have high potential in the field of combating crime and that further development of bilateral relations would serve the peace and stability in the region for the benefit of our peoples.
Ambassador Javad Jahangirzadeh thanked the Minister for hearty welcome, expressed his satisfaction with the further deepening of relations between the relevant structures of our states and noted that he would spare no effort in that direction.