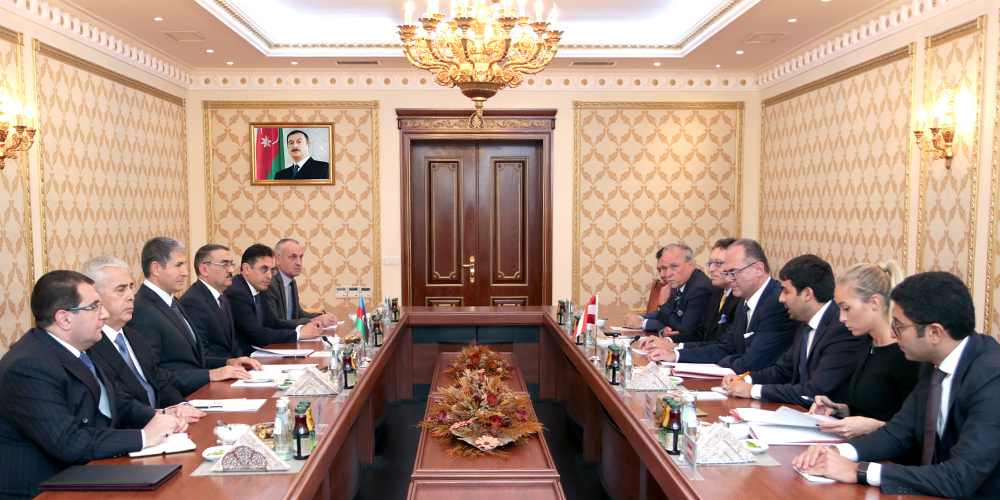 Press Release by the Press Service of the Ministry of Internal Affairs
10.10.2019
On October 10, Minister of Internal Affairs, Colonel-General Vilayat Eyvazov received a delegation headed by Federal Minister for Transport, Innovation and Technology of Austria Andreas Reichhardt, which is on an official visit to our country.
Having recalled the dynamic development of bilateral relations of a broad potential, the Minister of Internal Affairs of Azerbaijan informed the guests about the fundamental legal-democratic and socio-economic reforms carried out in our republic under the leadership of the President of the country, efforts in combating crime and restoration of stability, control over the crime situation, protection of public order and key rights and duties of the MIA including the provision of road-traffic safety.
On relations between Azerbaijan and Austria, Minister V.Eyvazov noted that there are close working relations between the Ministries of Internal Affairs of the two countries built on the basis of international legal documents and brought to the attention that Austrian Ministry of Interior was the first among the police entities of European countries which established bilateral relations with the similar organization in our country. Mr. Eyvazov also emphasized that two important documents were signed in the field of police training and qualification, and that mutual visits gave impetus to further deepening of cooperation.
Having expressed gratitude for hearty reception and detailed information, Mr. Andreas Reichhardt expressed his satisfaction with the rapid development of our country and emphasized the fact that Baku is one of the most beautiful and safest cities in the world where everyone feels very comfortable and safe. Mr. Reichhardt drew attention to the importance of exchange of experience and information in all spheres including application of new information technologies and law enforcement activities and mentioned that he would contribute to the further expansion of bilateral relations.A number of other matters of mutual interest were also discussed in the atmosphere of sincerity and friendship during the meeting.
Ambassador Extraordinary and Plenipotentiary of the Republic of Austria to our republic Mr. Bernd Bayerl and Ambassador Extraordinary and Plenipotentiary of our country to Austria Mr. Galib Israfilov also attended the reception.