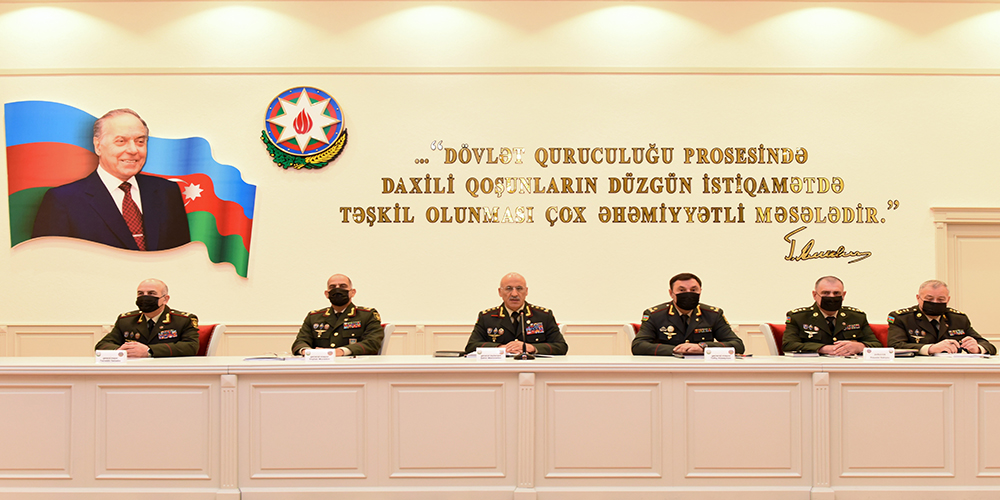 The next meeting of the Military Board of the Internal Troops was held 
12.01.2023
On January 10, the meeting of the Military Council was held on "the finals of service-combat activities and the duties set forth in 2022" in the General Department of the Internal Troops.
The chairman of the Military Council, the deputy minister of the Internal Affairs - the commander of the Internal Troops, lieutenant-general Shahin Mammadov, who delivered an introductory speech at the meeting, pointed out that the personnel of the Internal Troops of the Ministry of Internal Affairs during the past year carried out the duties such as ensuring security, protecting important facilities, as well as other duties and tasks defined for the territories liberated from occupation.
Major-General Tofig Huseynov, the first deputy commander of the Internal Troops - the chief of the headquarters, made a report on the finals of the service-combat activities of 2022.
It was noted that during the year, the troops were involved in maintaining the public order and ensuring public security during holding of the "Technofest Azerbaijan" Aerospace and Technology Festival, the "Formula-1 Azerbaijan Grand Prix" competition and other important international level events, football matches. During these events, also in the territories liberated from occupation, the field engineering sub-groups of the military units successfully performed the relevant service-combat tasks assigned to them.
During 2022, the combat training of the troops was conducted based on the requirements of the relevant directive, the improvement of the level of commander, qualification, shooting and physical training of military personnel was ensured. Joint special-tactical training exercises were organized with the aim of improving the joint activity and coordination of the military units of the Internal Troops and territorial police authorities.
It was also brought to the attention that during the past year, the strengthening of the material and technical base of the Internal Troops, adaptation of barracks and living conditions of the personnel to modern standards, and provision of the necessary needs of military personnel in accordance with the security norms were also ensured.
Later, the report-speeches of several military unit commanders and their deputies on the current situation, considerable deficiencies and causes of deficiencies were heard.
Concluding the meeting, the lieutenant-general Shahin Mammadov expressed his assuredness that the personnel of the Internal Troops of the Ministry of Internal Affairs will continue to perform the assigned tasks, as well as the tasks to be set forth in full and with determination, and wished success to the military personnel in their activities.