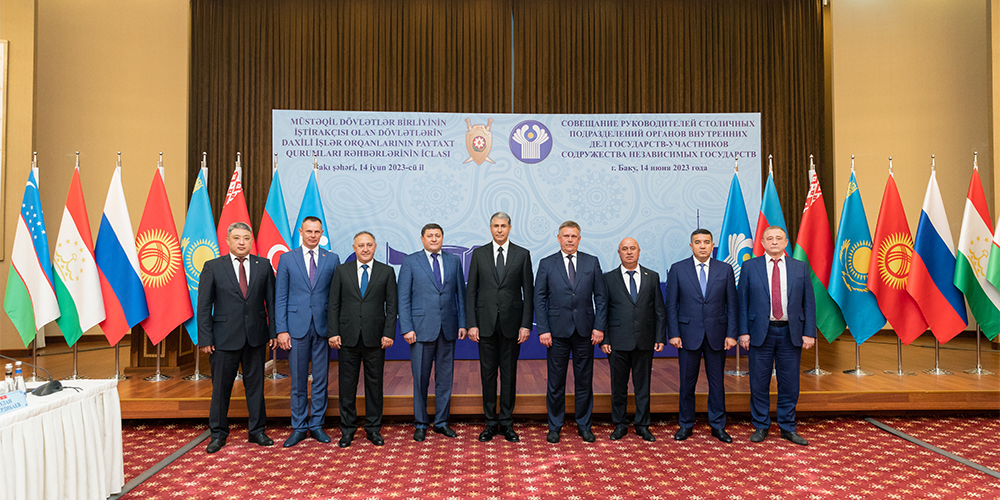 Meeting hold by police-chiefs of capitals of  CIS in Baku
14.06.2023
On June 14, the Ministry of Internal Affairs held a regular meeting of the heads of the capital bodies of the internal affairs bodies of the states participating in the Commonwealth of Independent States.
The Minister of Internal Affais of the Republic of Azerbaijan, general-colonel Vilayat Eyvazov participated in the meeting.
Opening the event with welcoming speech, the minister of internal affairs greeted the guests and wished success to the work of the meeting. He underlined the urgency of all issues on agenda and their compliance with the duties facing the internal affairs bodies, which are in line with today's realities, and expressed confidence that the discussions dedicated to ensuring security in the capital cities and increasing the effectiveness of the fight against crime will give a new impetus to further intensification and expansion of cooperation

After that, Mr. V.Eyvazov informed the meeting participants about the criminogenic situation in the republic and implemented measures and said that effective organization of prevention and disclosure of crime, reliable provision of Public Order and security serve the interests of our countries and peoples. Joint efforts to achieve these goals should be further strengthened, purposeful and persistent.
The guests were informed that comprehensive reforms and modernization allow adequate response to threats of crime and its transnational organized types. It was also noted that as a logical result of the positive results achieved in the fight against crime, protection of Public Order and provision of Public Security, Azerbaijan confirmed its image of a stable and safe country. Its capital, Baku, has become the venue for political, cultural and sporting events of international importance, including summits, conferences, humanitarian forums, world and European Championships.

Touching upon the existing problems, the minister of Internal Affairs emphasized that the fight against illegal drug trafficking, international terrorism, human trafficking, illegal migration and cybercrime, which are the main types of transnational organized crime, is in the spotlight, and that it is possible to effectively fight against new threats and challenges only by joint efforts.

At the end of his speech, Colonel-General Vilayat Eyvazov expressed confidence that the discussions to be held at the meeting will further strengthen cooperation ties, give participants the opportunity to benefit from the experience of their colleagues and, in general, make a worthy contribution to the fight against crime.
The meeting participants took a commemorative photo.
Priority directions and prospects of cooperation, combating illegal drug trafficking, cybercrime, as well as other types of transnational organized crime, intensification of information exchange, as well as other issues of mutual interest were discussed at the meeting.
At the end of the event, it was decided to hold the next meeting in Dushanbe, the capital of the Republic of Tajikistan.