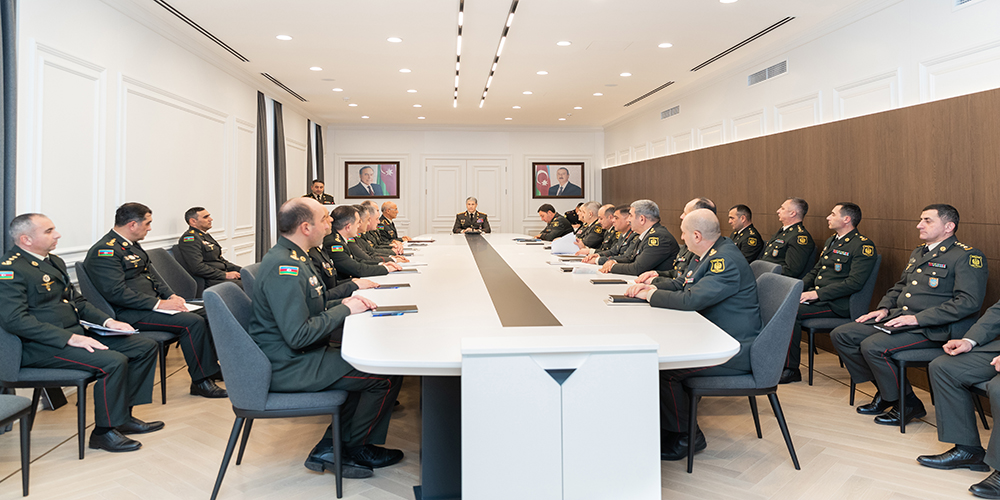 The Minister of Internal Affairs has held operational meeting
11.01.2023
Today, an operational meeting dedicated to the finals of service-combat activity in 2022 of the Internal Troops of the Ministry of Internal Affairs was held under the supervision of the minister of internal affairs, colonel-general Vilayat Eyvazov.
Colonel-General Vilayat Eyvazov, who opened the meeting with introductory speech, stated that as a result of the development and progress strategy successfully pursued by the President of the Republic of Azerbaijan, Commander-in-Chief of the Armed Forces Mr. Ilham Aliyev, the economic power, defense potential, and international positions of our country have significantly strengthened and emphasized that the Head of the State had always paid special attention to the army building, as well as to improvement of the activities of the Internal Troops, the material and technical support, and the further improvement of the working and living conditions of military personnel.
The minister noting with satisfaction that Mr. President highly appreciated the bravery of the Internal Troops of the Ministry of Internal Affairs in ensuring the territorial integrity of our country, the services rendered by military personnel together with police officers in protecting public order and security in all parts of our republic, including cities and regions liberated from occupation emphasized that that this higher attention and care requires military personnel and police officers to perform their duties with greater responsibility.
Then, the Deputy Minister of Internal Affairs - the commander of the Internal Troops, lieutenant-general Shahin Mammadov made a report on the finals of the service-combat activities.
Concluding the meeting, the minister V. Eyvazov noted the tasks in front of the troops and gave his instructions and recommendations. At the same time, he expressed his assuredness that the personnel will respond to the attention and care demonstrated to them with reliable protection of stability and peace, decisive fight against crime, as well as their exemplary services in the liberated territories, and will continue to fulfill all the tasks assigned to them.