The statement of the Press Sevice of the Ministry of Internal Affairs
05.07.2016
The Minister of Internal Affairs, colonel general Ramil Usubov has received Dan Stav the Ambassador Extraordinary and Plenipotentiary of Israil to Azerbaijan on July 5.


The minister greeting the visitor cordially stressed that the relations between our nations have deep layers and ancient history, various nations and also the jews have lived in our republic, recognized in the world as a country where multicultural values are preferred, in tolerant environment, in friendship and kind conditions, the great leader Heydar Aliyev had an important role in building bilateral relations. He delivered to the attention that trhis cooperation would be further deepened in the result of political will of the President of Azerbaijan Republic Mr. ILham Aliyev and the leaders of Israil State.

Then, the minister provided information about the structure of the MIA, its main activity directions, the challenges we encountered in the first years of the independence, occupation of our lands in the result of aggression of Armenia towards our country, the measures taken after return of the National Leader Heydar Aliyev to the power with the demand of people, the reforms conducted in all fields of the society, as well as in the authorities of internal affairs, the successes gained in the field of combating crime and protection of public order and existing criminogenic situation.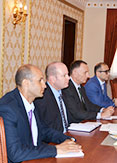 The minister, reminding that the police officers and the military servants of the Internal Troops were invoilved to the various trainings held in Israil for last years, they increased their professionalism and qualifications, delivered to the attention that we had business relations with related structures of Israil, also stated that in order to expand these relations in the level of the Ministries of Internal Affairs, the draft Agreement on cooperation in internal and public security issues between the Government of Azerbaijan Republic and the Government of Israil State was developed and submitted to the counterparty.

While touching the problems, it was noted that the international terrorism being one of the main types of transnational organized crime and illegal turnover of drugs stand in the center of attention and it is important to combat them only with joint efforts .

The ambassador Dan Stav expressing gratitude for cordial reception and detailed information congratulated the minister for the day of Azerbaijan Police and Ramadan holiday celebrated a few days ago, stressed that the associates of the authorities of internal affairs spent great labor in the direction of protection of public order and stability, provision of security of the foreigners along with the citizens of the country, today pur republic is one of the safest states.
He delivered to the attention that he would not refuse his efforts for further deepening of the cooperation between relevant structures of both states during his diplomatic activity period.
A number of other issues interesting to the parties was discussed in the meeting.