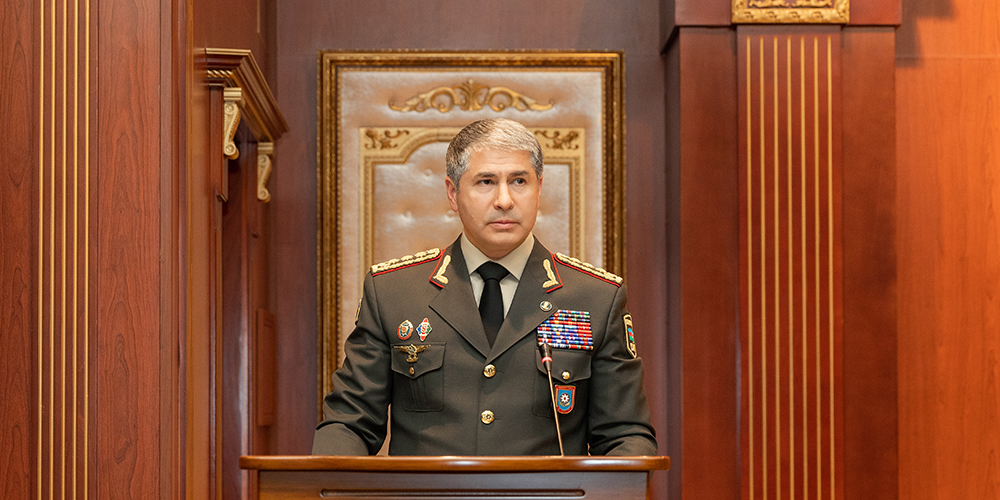 The Minister V.Eyvazov: "the Police is a place of trust of the citizen..."
13.01.2023
On January 13, an operational meeting dedicated to the finals of works done in 2022 and the duties set forth was held in the Detached Quick Police regiment of the Ministry of Internal Affairs under the supervision of the Minister of Internal Affairs of the Republic of Azerbaijan, the colonel-general Vilayat Eyvazov.
Speaking at the event, the Minister V. Eyvazov brought to the attention that the existing stability and security conditions in the country have been further strengthened, that public order was reliably protected last year, and that the personnel of the Regiment contributed greatly to the positive results achieved. However, the minister noted the presence of certain defects and deficiencies in the service and demanded to eliminate them as soon as possible.
Then the commander of the regiment, the police major-general Sahlab Bagirov delivering a speech on the finals of the reporting period and the tasks set forth and gave a report on the results of the works done.
Concluding the meeting, the Minister of Internal Affairs brought to the attention that according to the order of the country leadership, all kinds of conditions have been created for the successful performance of official duties, and that personnel are covered by comprehensive state care.
Emphasizing that the police is a place of people's trust, the minister V. Eyvazov demanded that every police officer has to act within the law and reach out to people's help, assist them in solving their vital problems, approach their appeals with sensitivity, as well as behave politely in communication with citizens. He stated his assuredness that the personnel of the regiment will continue to perform the assigned tasks with determination and will justify the trust shown to them with their loyal service.