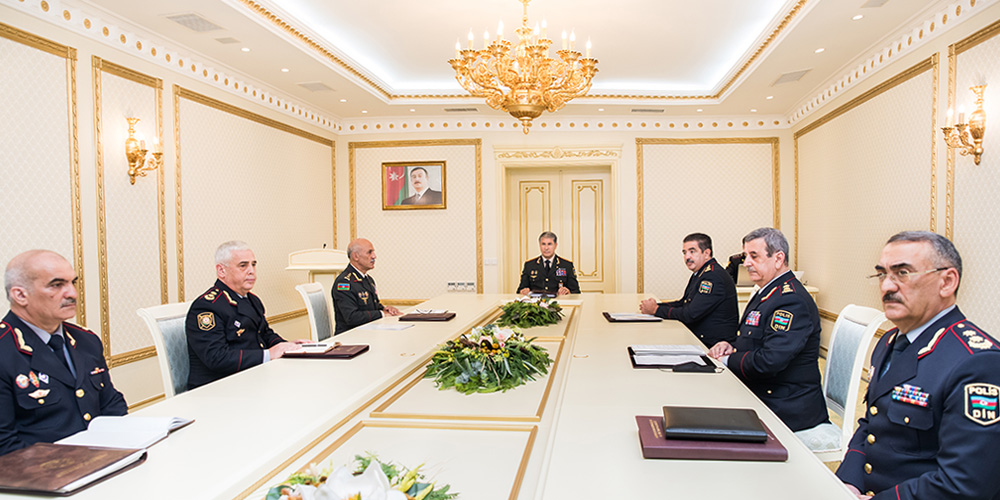 From the Press-service of the Ministry of Internal Affairs
24.09.2021
A board meeting dedicated to the results of investigative activities, organization of services in temporary detention centers, and law enforcement in agencies and departments has been held in the Ministry of Internal Affairs on September 24.
In his opening speech, Minister of Internal Affairs Colonel General Vilayat Eyvazov touched upon the investigative activities and noted that in 8 months of this year, 85.3 percent of crimes have been solved; the number of intentional homicides attempted homicides, intended grievous bodily harm offenses, thefts, robberies, plunders, car thefts, gang crimes, and firearm-related offenses has significantly decreased compared to 8 months of the previous year; more than 1 ton, i.e. about 2.5 tons of narcotic substances have been withdrawn from illicit trafficking; 3634 persons have been brought to trial for these crimes as well as other positive results have been achieved. At the same time, the Minister stressed the fact that all three subjects of the discussion at the board meeting are sensitive since they have an impact on the criminogenic situation, achievement of the adequate level of citizen satisfaction, and reliable protection of human rights and freedoms.
Chief of the Main Criminal Investigation Department Police Major General Arzu Dashdamirov, Chief of the Main Public Security Department, Police Major General Ogtay Karimov, and Chief of the Internal Security Department Police Colonel Elman Gasymov made their reports on the items of the agenda and spoke of the measures taken and results achieved, as well as reported on existing shortcomings and planned remedial action.
Chiefs of a number of regional agencies spoke on the issues under discussion and reported on the work done and measures to remove existing shortcomings.
Summarizing the board meeting, Colonel General Vilayat Eyvazov determined the duties related to three issues under discussion and gave specific instructions, as well as expressed his confidence that the staff of the internal affairs agencies would continue to perform creditably their functions established by the legislation and use their best efforts to ensure stability and peace in the country.