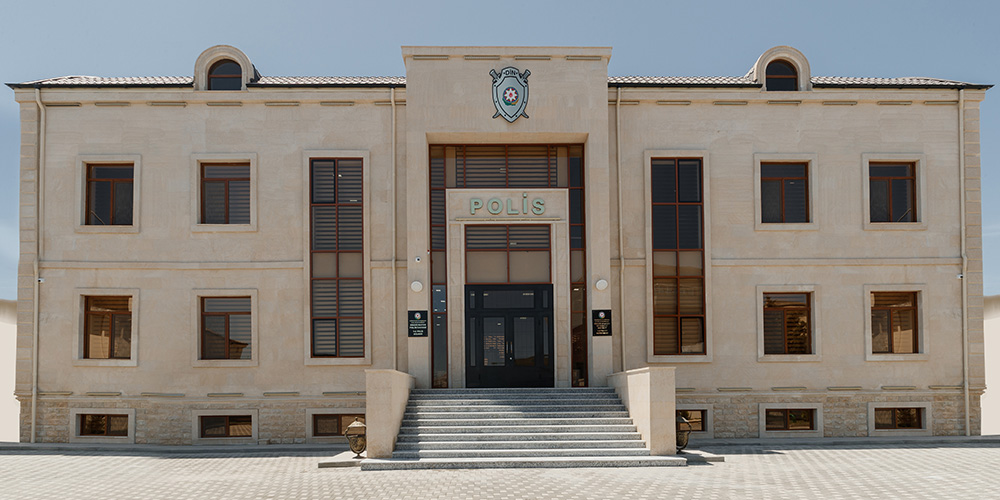 Minister of Internal Affairs attended the opening ceremony of two new administrative buildings
15.06.2020
15 June – The opening ceremony of new administrative buildings of the 1st Police Department of Khazar District Police Directorate and the 13th Police Department of Sabunchu District Police Directorate took place on the National Salvation Day.
Minister of Internal Affairs of the Republic of Azerbaijan Colonel General Vilayat Eyvazov took part in both events.
It has been noted that the 2-storeyed administrative buildings were built in accordance with up-to-date standards and fitted out with all necessary equipment, communications and utilities, furniture and appliances. Both buildings include a weapons storage room,
sports and recreation zone and dining facility. The new buildings are provided with the ventilation, central heating system, boiler room and communication lines as well as other auxiliary areas. The territory was surrounded by a fence and landscaped and outdoor lights were installed.
The minister familiarized himself with photo stands in the foyer of the new buildings which reflect the moments of the rich state activity of National Leader Heydar Aliyev, President Ilham Aliyev's achievements in the field of internal and foreign policy, and special attention and care given to the internal affairs bodies as well as reviewed the duty rooms and service rooms fitted out with special equipment and computer systems.
Colonel General Vilayat Eyvazov highly appreciated the work done and gave commissions and recommendations. The Minister noted that he was pleased with the opening of two new administrative buildings on the National Salvation Day, which is one of the most significant days for our people, and expressed his confidence that the staff would respond to this high attention and care of the state by worthy service.