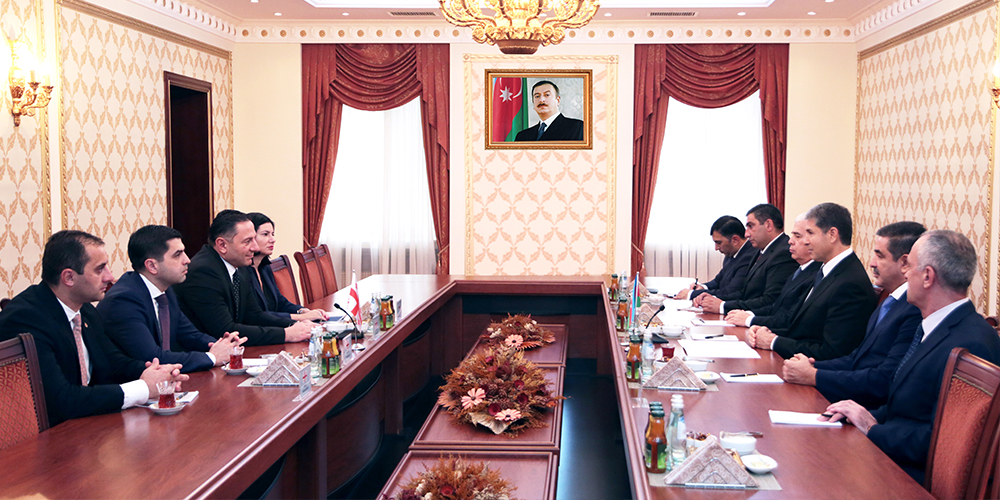 Press Release by the Press Service of the Ministry of Internal Affairs
09.10.2019
On October 9, Minister of Internal Affairs, Colonel-General Vilayat Eyvazov received a delegation headed by Minister of Internal Affairs of Georgia, Lieutenant General Vakhtang Gomelauri, which is on an official visit to our country.
Having welcomed the guests, Minister V.Eyvazov congratulated his Georgian colleague on the appointment to this post and recalled the ancient historical roots of friendship between our peoples. Mr. Eyvazov noted that the leadership of both countries attach great importance to further expansion of our relations and these relations are successfully developing in accordance with the political will and the defined strategy of the Presidents of the countries. Minister emphasized that cooperation between the Ministries of Internal Affairs, in particular, joint activities in the field of combating transnational organized crime, serves the interests of friendly and fraternal nations and ensure security in the region.
Then, the Minister shared information about the current crime situation, reforms carried out in all spheres of the public life including the internal affairs bodies, results achieved in combating crime and enforcement of public order, measures taken to bring up MIA service to global standards.
It was noted that a practice of discussion of the priority areas like further improvement of coordination of joint efforts in combating crime and cooperation expansion has been established in the result of mutual visits at the level of senior officials of ministries, heads of border police departments in recent years. The Minister noted that the legal framework of cooperation between the MIAs has been strengthened purposefully and consistently and stated that the signed instruments, especially the Agreement on Cooperation among the Republics of Azerbaijan, Georgia and Turkey signed in April 2002 in the field of combating terrorism, organized crime and other types of grave crimes, provided a boost both to mutual relations and cooperation at the level of international organizations.
Minister V.Eyvazov emphasized that combating illegal drug trafficking, international terrorism, trafficking in human beings and illegal migration, as one of the main types of transnational organized crime, is in the focus of attention and noted that effective counteracting can be achieved only through the joint efforts.
Having expressed gratitude for hearty reception, detailed information and hospitality, Minister of Internal Affairs of Georgia Lieutenant General Vakhtang Gomelauri expressed the interest in further development of relations with a good neighbor and friendly state – Azerbaijan – in all spheres including the relation between the ministries of internal affairs.
A number of other matters of mutual interest were also discussed in the atmosphere of sincerity and friendship during the meeting.