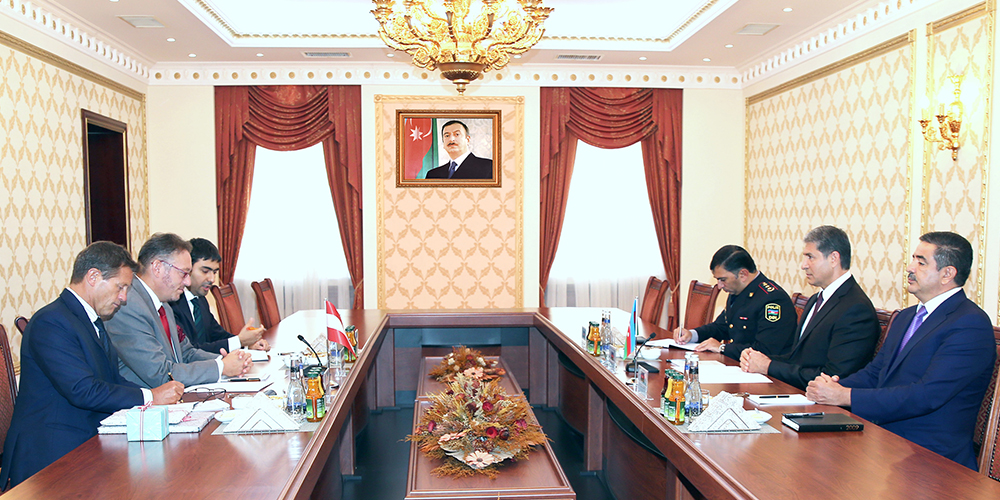 Press Release by the Press Service of the Ministry of Internal Affairs
21.08.2019
August 21 - Minister of Internal Affairs of the Republic of Azerbaijan Colonel General Vilayat Eyvazov received Bernd Alexander Bayerl, the Ambassador Extraordinary and Plenipotentiary of Austria in our country.
Having welcomed the guests, the Minister noted that relations between Azerbaijan and Austria are developing day by day and added that there are close working relations between the Ministries of Internal Affairs of the two countries, and this cooperation is based on international legal instruments.
The Minister recalled that the Ministry of Interior of Austria was the first European country institution which established bilateral relations with the relevant organization of our country and noted that two important documents were signed in the field of police training and training and mutual visits gave impetus to further deepening of this cooperation.
The Minister of Internal Affairs expressed satisfaction with the visit of representatives of the Vienna City police to Azerbaijan on the eve of the Eurovision Song Contest and the 1st European Games held in Baku who shared their experience in ensuring public security during large-scale events.
Speaking about the problems, he stressed that one of the main types of transnational organized crime like international terrorism, illegal drug trafficking, trafficking in human beings and illegal migration are in the focus of attention and it is necessary to join efforts for effective combating such global threats.
Ambassador Bernd Alexander Bayerl expressed his gratitude for hearty reception and detailed information and emphasized the importance of sharing experience and information in the law enforcement activities and their interest in the cooperation with the Azerbaijani law enforcement agencies including the Ministry of Internal Affairs in combating transnational organized crime.

Stressing the development of economic, political and other relations between the two countries, the diplomat noted that he would contribute to further expansion of relations between the relevant government institutions including the Ministries of Internal Affairs of the two friendly states during the period of his activity.
The parties also discussed other matters of concern in friendly and businesslike atmosphere.