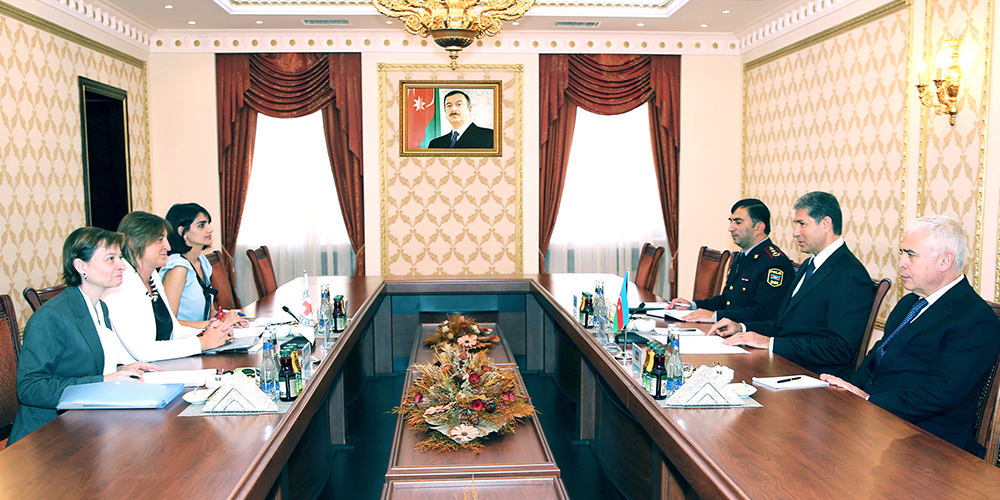 Press Release by the Press Service of the Ministry of Internal Affairs
20.08.2019
On August 20, Minister of Internal Affairs of the Republic of Azerbaijan, Colonel-General Vilayat Eyvazov received the head of the Representative Office of the International Committee of Red Cross in Azerbaijan Elena Aymone Sessera.
Having welcomed the guests, the Minister recalled that the cooperation between the internal affairs bodies and the International Committee of Red Cross was based on the approved Action Plan and the Agreement approved by the Order of the President of the Republic of Azerbaijan dated June 2, 2000.
Mr. Vilayat Eyvazov noted that protection of human and civil rights and freedoms, strengthening of the reign of law, observance of law were one of the priority directions of sustainable reforms carried out in our country and in the MIA. A number of practical measures have been implemented in this area.
Thus, new regulatory documents were adopted to reflect the rules and opportunities for the protection of human rights, use of legal assistance, submission of complaints and proposals to supreme authorities as well as unrestricted meetings with representatives of human rights organizations and independent experts. At the same time, concrete measures were taken to improve the activities of detention facilities in accordance with international norms, protect the rights of detained persons and improve conditions of detention. It was noted that almost all of temporary detention facilities operating in the agencies and departments of the MIA were renovated in accordance with the requirements of the existing regulations and modern standards, all of them were provided with video surveillance and security equipment.
Colonel General Vilayat Eyvazov stated that since 2003, seminars and trainings on various topics have been held for police officers and Internal Troops through the representation of the International Committee of Red Cross in our country and more than 700 employees have participated in these trainings. It was also mentioned that the Ministry of Internal Affairs provides 28 types of e-services to citizens in order to eliminate cases of corruption as well as to minimize civil servant-citizen relations.
Having expressed her gratitude for the reception and detailed information, Mrs Elena Aymone Sessera shared information on the efforts made in detention facilities, organized training courses as well as the work to be done in our country by the organization she heads. She also expressed interest in further expansion of cooperation with the Ministry of Internal Affairs.